Grand Habor Resort and Waterpark
Grand Harbor Waterpark - Dubuque, Iowa -
25,000 square feet of wet fun for kids and adults of all ages with thrilling waterslides, an exhilarating inside/outside tube ride, rope ladders, water spouts, water chutes, squirt guns and powerful water cannons. There's also a relaxing lazy river, several pools and two giant hot tub whirlpools.
The feature attraction, though, of this Mississippi-themed indoor waterpark in the Grand Harbor Resort is the Huck Finn, complete with paddle wheelers in the place they were built - the Dubuque Boat and Boilerworks. Every 9 minutes the Huck Finn II's whistle will blow, toppling a huge bucket over that dumps nearly 800 gallons of water on those who dare to stand below it!
While the park is included for resort guests locals and other visitors can pay for daily admission. Entrance for non-resort guests can be as little as $10 for kids and $12 for adults during the off-season weekdays and as much as $18 per person during peak season.
Check Availability and Online Booking Discounts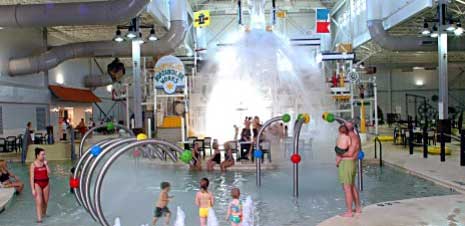 GO BACK TO IndoorWaterparks.net