Great Wolf Lodge Seattle
Kings Island Great Wolf Lodge - Seattle, Washington -
The state of Washington won't be getting an indoor waterpark until the fall of 2006 but it will be worth the wait as Great Wolf is coming to the town of Starbucks, Amazon.com and Nirvana.
Details aren't out yet but, for now, let's look at what Great Wolf packs into its 40,000 square foot park in Kansas City. Bear Track Landing has eight waterslides and five pools. Waterslides include: Alberta Falls: two tube slides covering 626 feet twisting inside and outside the waterpark; Totem Towers: two three-story body slides; Howling Wolf: a three-person toboggan-style ride winding 336 feet throughout the waterpark; and Whooping Hollow: three kiddie slides.
You can choose to shoot hoops in one of the activity pools or relax and enjoy your getaway in one of the 20-person whirlpools. The small cubs can play in the zero-depth entry Cub Paw Pool, featuring interactive water toys like tumbling buckets.
Fort Mackenzie is in the center of it all, a 4-story interactive tree fort features 12 levels of water-based adventure interconnected with suspension bridges, cargo nets and web crawls, as well as over 60 guest-activated water effects. Every 3 to 5 minutes, the huge 48-foot tall bucket at the top of Fort Mackenzie fills with 1,000 gallons of water and dumps over the entire fort and everyone standing below it.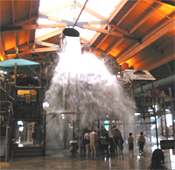 GO BACK TO IndoorWaterparks.net