Mayan Adventure -- Chicago, Illinois
Mayan Adventure at Holiday Inn Elmhurst -- Chicago, Illinois - 630-279-1100
Chicago's first indoor waterpark features 24,000 square feet of covered activities. Beyond the body and tube slides, a lazy river glides gently around the park. Water basketball, a swirl pool, and a vortex pool are also there for the refreshing.
The park also includes a zero-entry play area for kids -- and kids at heart -- with a dumping bucket. The Island Breeze Bar and Grill is there for light food and drinks. You can book this Holiday Inn property -- in the Chicago suburb of Elmhurt -- online. Just check the following link to check online discounts and make your reservation directly with Holiday Inn.
Online deals for overnight stays at Mayan Adventure? Just click here.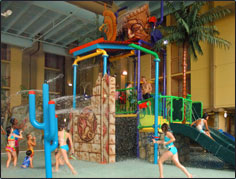 GO BACK TO IndoorWaterparks.net